Buy a New Set of Perspex Number Plates For Your Car
Whether your personalised car registration has cost you £300 or £3,000 then the small pieces of rectangular plastic at either end of your car will show off your purchase to its best when you buy a quality set of acrylic number plates from The Private Plate Company.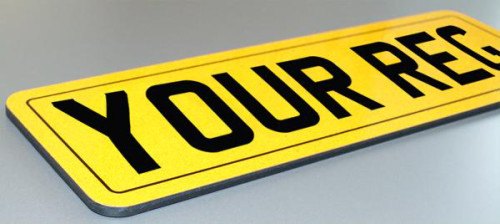 Do You Supply Acrylic Number Plates?
We only offer this service to customers who buy their registration numbers from us as there are lots of restrictions and red tape to adhere to when ordering new number plates.
After you have ordered your new personalised registration, you will have the option of ordering a new set of acrylic plates from us. You can choose to have them nice and simple or designed with a border and a badge or even the very latest 4D letters if you like, and whats more, we will post them to you with a free fixing kit worth £6.95 and free tracked postage. Who else offers that level of service?
Unlike many cheap alternatives, our plates are guaranteed for 2 years and carry the "BS AU 145e" notification that show that they are made to MOT standard. Without the BS AU 145e qualification on your plates, they can be classed as an MOT failure.