How to Transfer a Number Plate From One Car to Another
Now that all the DVLA local offices have closed down, we are constantly asked "I want to know how to transfer a private number plate"? Although the process is relatively simple, the forms that accompany the application can be very confusing.
Forms Required To Transfer A Plate From Car To Car
To transfer the registration number from car to car, you will need the following items…
V5C registration documents for both vehicles.
Valid MOT certificates for both vehicles if they are over 3 years old.
A cheque for £80.00 payable to DVLA for the transfer fee.
A completed V317 transfer form.
Once you have the items 1, 2 and 3, you will need to download a V317 DVLA transfer form from the DVLA website.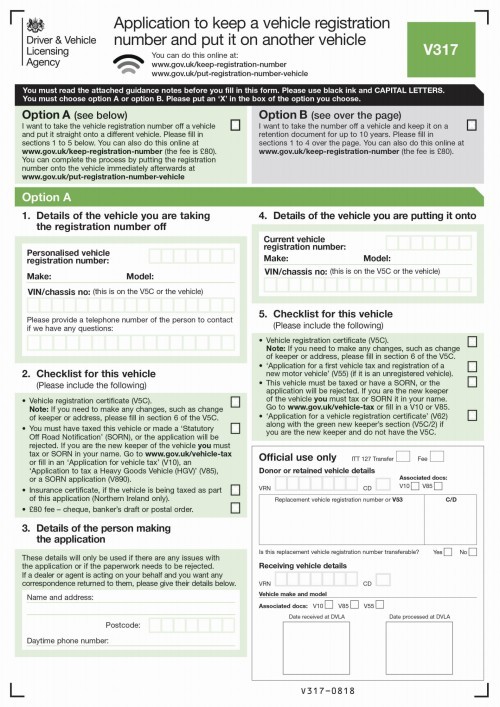 Once downloaded, complete the form with the details of the donor vehicle on the left hand side and the receiving vehicle on the right hand side. Each respective owner of the vehicles will need to sign the transfer form at the bottom to confirm the application and then this form must be posted to DVLA, Swansea. SA99 1DS along with a fee of £80.00 payable to DVLA for the transfer fee.
How Long Does Number Plate Transfer Take?
The DVLA quote the transfer time as 4-6 weeks although in our experience it generally takes about 3 weeks to receive the new documents. If you are still confused, we offer a check and send service for just £25.00 plus VAT whereby you can post all your documents to us and we will complete the transfer for you in 7 working days. Call us on 01639 888833 for details or view our handy How to transfer a number plate from one car to another video.
It's very important to remember that once the transfer has taken place, the insurance company should be notified as soon as possible to ensure continued cover. Please also see our "How-To" guides on how to transfer a number plate from a car to a retention certificate.