Yes thats right. Even we can't believe that we would, one day, be writing about another Lamborghini four wheel drive. Lamborghini are not new to the 4x4 market. Back in 1986, they released the LM002 and it wasn't as successful as expected. It didn't perform quite as well as expected either and as a result, only 328 cars were built. The original models bear a similar resemblance to the Hummer which has been a huge success in the States so maybe this new model will be much better.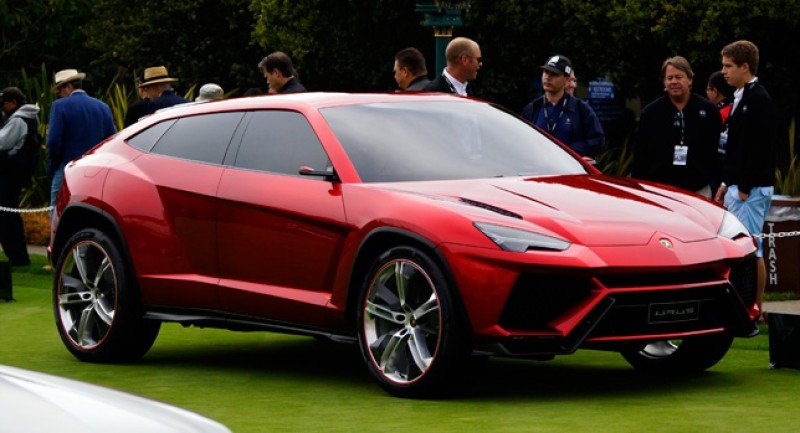 So Lamborghini are jumping on the SUV band wagon again. To be fair we're really undecided on this. Surely super cars should just stick being super cars, yeah? The more we look at the pictures of the new model who we think will be called Urus, it just doesn't look quite right. We're not huge fans of the BMW X6, and this has that similar shape at the back. It has that coupe look, quite sleek but on big wheels. We know this is just a concept car at the moment and no doubt Lamborghini will tweak a lot of the way it looks before its released in 2018, but every time we look at this picture, it conjures up the images of the children's toy cars from "Hot-Wheels"
The Urus will be available with a V8 engine, unlike her siblings the Huracan and the Aventador, which come in either V10 or V12 with a 4 litre engine. The Urus will also have a turbo charged engine, which they've tested on the track against other luxury SUV's & the bosses at Lamborghini were more than impressed with its performance. By using a V8 turbo engine, it will have the torque you'd expect from a turbo engine but will provide lower emissions. Chief executive Stephan Winkelmann said it ticked all the boxes that they hoped for when designing and it had the power and speed, but he said it was also comfortable like being in a limousine. If this is what Lamborghini's aim was in designing an all-new luxury 4x4 they may well have achieved it. Discussions are also said to be in place at Lamborghini on designing a hybrid and the Urus seems the perfect candidate.
When the new Bentley Bentayga was announced, we weren't that struck on it. But these SUV's have a habit of growing on you and just like the Range Rover and the Bentayga there will surely be a waiting list as long as your arm even though most potential customers will not even have seen the actual product, just a picture in a magazine. The Bentayga is the fastest SUV in the world, reaching speeds over 180 mph. But Winkelmann says he'd like to change that.
Its all about branding. If the badge shows a raging bull, or the B with wings, people will buy. But wait, will an SUV ever have a prancing horse on its badge? Who Knows. We wouldn't rule it out. 15 years ago no-one would have thought Porsche would have built a 4x4 and now the Cayenne is amongst the most popular 4x4's on the road but it will always play second fiddle to the King of 4 wheel drives….The Range Rover Vogue.
Visit The Private Plate Co for hundreds of Lamborghini private number plates or call us on 01639 888833 for details.