Can you believe after all these years, Bentley have built an SUV-or 4x4 as we commonly call them. We can't believe it ourselves. The problem is, people associate the Bentley brand as prestigious, luxury cars only, and never did the world think that this brand would venture into this area of motoring. We know that when the GT was first designed a lot of people were in total awe of this amazing car. It had, and still does have it all. The body and shape is enough to turn heads, the interior is the luxury you'd expect from this exclusive brand and then theres the 6 litre engine that can make this car purrrrr like a cat when its ready to pounce.
But that's the GT, a tried and tested recipe for motoring success. So lets see what this SUV has to offer. Its clearly going to be everything you'd expect on the inside. You get a choice of hundreds of colours of leather and styles. You can design your own stitching and choose a colour whether it will be the same as the leather or a contrast colour and then there's the range of finishes you get, from walnut to piano black. There is no other 4x4 out there that will offer this service unless you pay someone like Kahn Design to spruce it up- and thats not cheap.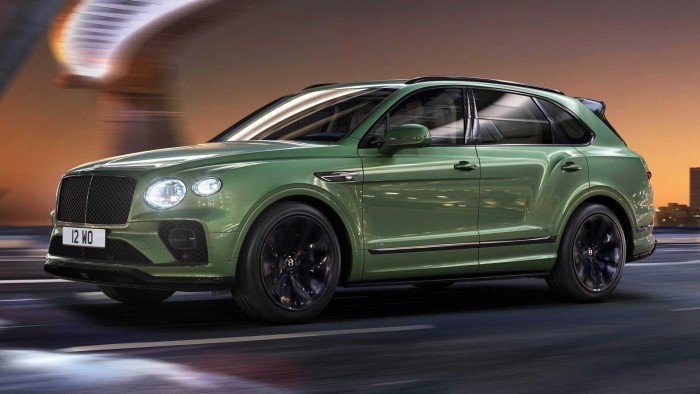 The pictures that you see of the new Bentley SUV aren't 100% accurate though as Bentley have been very cagey. Apart from the people involved with the design, nobody actually knows what this car is going to look like. When it was first launched in 2012, as a concept car called the EXP 9F, the look didn't go down too well with the public and motoring journalists alike, so Bentley's company bosses have stated its going to look completely different to what people saw two years ago.
Bentley Number Plates
2016 is when it will be launched and with orders already being taken before people have actually seen it, proves that Bentley don't really need to advertise their product. We assume that most of these orders will be from the Middle East so with a price tag of £130,000 or more, its a drop in the ocean for wealthy Arabs.
As long as it's a Bentley, who cares. All we really know at this point is its name. The Bentley Bentayga. We're sure it will look amazing especially with a BEN registration number from The Private Plate Company. Contact us on 01639 888833 for any help and advice on buying or selling a personalised registration number.