For most people of this world, to travel abroad is an absolute luxury. Booking a holiday to travel by plane, is the finest way to visit a foreign country. If you are like most of us, when we venture onto that wonderful metal bird, we can't help but look at those wealthy business class passengers that we are all made to walk past, whilst battling for our over the head locker space, that for some reason, someone has used, even though they're not even sitting in row 33.
To travel economy is a fine, but when we see how business class and first class passengers travel, we do sense that little bit of envy (or is that just us?) I mean, first class have beds made for them by their trusty cabin crew, so if you're flying Heathrow to LA, how amazing would it be to arrive at your destination fresh and relaxed after a full 8 hours rest, rather than looking like you've spent most of your life living in the wild.
But that's enough of that. As we dream of improving our travelling class from economy to business or fist class, the upper class could very well be dreaming of an even better way to travel. How about owning your own plane? We have been intrigued (nosey if you like) at how well certain people live. To own your own car is something. To own your own yacht is something else. To own your own plane is amazing yet there are some individuals like John Travolta who actually owns several planes. He not only owns them, he's actually qualified to fly them himself. Having trained with Quantas as an honey pilot, if his acting career takes a turn for the worst, he could always work for the Australian company as a pilot.
There are so many celebrities with their own planes. Tom Cruise, Jim Carrey, Tiger Woods, Oprah Winfrey, Celine Dion to name a few. Some people have made some serious money to have such an extravagant luxury like this. You can't pick one of these up from dodgy Dave down the road for a great second hand price. The cost alone to run one of these, is money most of us can only dream about.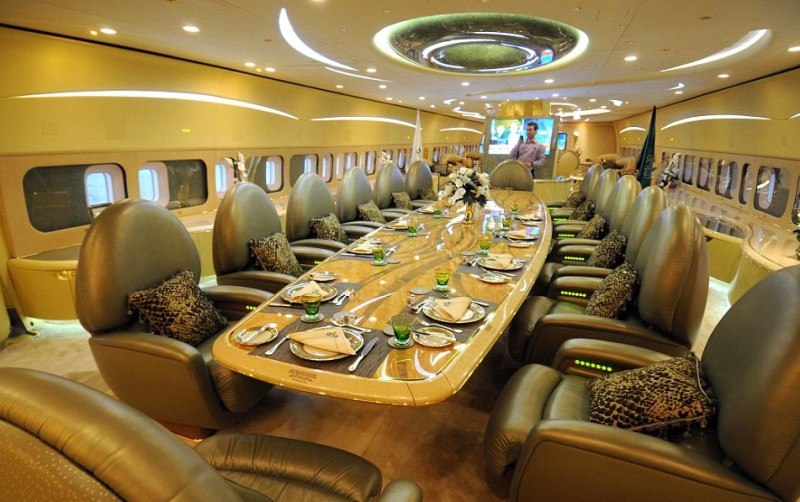 But there's another league again. Onto the worlds biggest and most luxurious jet of them all. This is owned by Prince Alwaleed bin Talal al Saud. The Airbus A380 which is used by the likes of Singapore Airlines and Emirates, holds up to 800 passengers. That's one big aeroplane. But are 800 seats really needed for the Saudi Prince? No. In fact, these were all removed and the airbus was refurbished to highest standard. The plane now boasts marble and gold with carpets so thick, you feel like you're walking on air (literally). The Prince even has room for his Rolls Royce, which he can take wherever he travels in the world. Amazing yes? But luxury like this does not come cheap. The price to purchase this gigantic bird would have cost the Prince $487 million and that does not include the revamping, which apparently cost a further $150 million. Surely this is the most luxurious way to travel at speed.
The Private Plate Company have hundreds of aircraft related registrations available including FLY number plates less than £200.