A question for you. What is a gigayacht? Well there's a clue in the name. Give up? Well a gigayacht is a yacht, but not just any yacht, its a giga sized yacht, meaning its gigantic. This yacht is still being built, but the talk on the water is that this particular marine craft will be the size of two football fields. So quite big then considering its for a family man and not to be used as a mini cruise for holiday makers.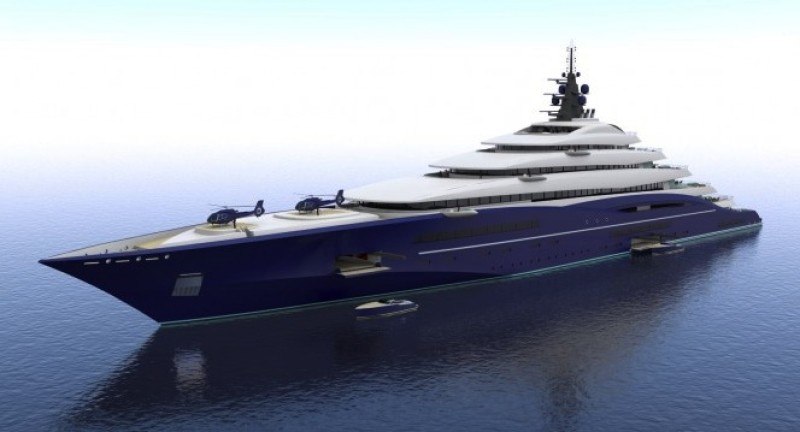 How big is it?
According to sources, this gigayacht, which is called Double Century, will have nine decks, and stand almost 90 feet above water and at over 650 feet long, she will surely dwarf her predecessor the Azzam, which is 70 feet shorter and is owned by the President of the UAE. That may not sound a lot, but we're sure Azzam's owner will disagree. Incredibly, the yacht will also boast not 1 but 2 helipads and will also have 70 or more crew constantly employed in what must be an amazing job to have.
How much does it cost?
Here's another question. Can you imagine what this gigantic yacht is going to cost? The answer is a mere £550 million. We're sure the owner of this will take great pleasure in knowing he's got the biggest and most expensive yacht to sail the seas but at the same time, we wonder what Mr Roman Abramovic will think of this beast as he currently owns the world's 3rd largest yacht. You can just imagine this beast moored up in Monte Carlo or Puerto Banus. This will certainly cause a stir wherever it is, whether its at sea or in the marina, if it will fit that is.
But will it stay the largest yacht in the world? No because theres another gigayacht being built, but won't be ready until 2018. Its called the Triple Deuce and its estimated to be around 728 feet and the cost is estimated to be over 1 billion dollars. Wow our jaws have well and truly dropped.
If you have a billion dollars, or even just a few hundred pounds spare, why not consider a personalised number plate from The Private Plate Company. We have a selection of over 40 million car registrations for sale from less than £100.