Almost everyone recognises a Rolls-Royce by the flying lady on the bonnet of the cars which is affectionately known as the Spirit of Ecstasy. When the first Rolls-Royce cars were built, they simply had the recognisable double R or "RR" badge attached to the front of the cars, however Lord Montague wanted something more personalised and unique to adorn the front of his 1909 Rolls-Royce. He asked his friend and designer Charles Robinson to make a special mascot to fit to the front of the car. The design featured a beautiful figurine with her finger pressed against her lips in the manner of a whisper. This figurine was representative of Eleanor Thornton, Lord Montagu's secretary, who was secretly having an affair with her boss for over ten years yet they never married as he later married Lady Cecil Victoria Constance. The finger pressed to her lips was a symbol of the secrecy surrounding their relationship.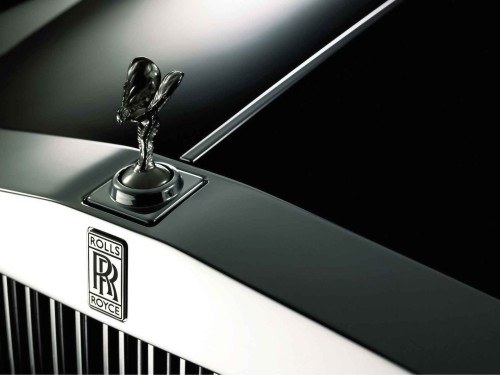 Personalised Spirit of Ecstasy
Rolls-Royce owners, after seeing this, were now having their own individual, and in some cases inappropriate, mascots made and attached to their cars and so the managing director of the company at that time sought a designer by the name of Charles Sykes, and commissioned him to design a new brand identity for the company. The specification of the new mascot had to be in keeping with the air of luxury and quality of the car in that it should have grace and dignity.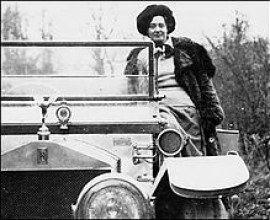 Apparently, a few designs were submitted although they were turned down as they did not really convey the image that was required and so eventually the final acceptable design resembled the "whisper" of Lord Montagu's car and was called the Spirit of Speed, later be be renamed as the "Spirit of Ecstasy" and has been seen since 1911 on all new Rolls Royce cars.
The New Spirit of Ecstasy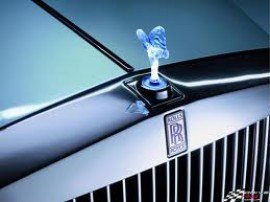 Rolls Royce have just released plans for a new special motoring mascot for its wealthiest clients in the form of an illuminated Sprit of Ecstasy figurine that fits to the bonnet of their latest models. The name Spirit of Ecstasy is also referred to as "The Flying Lady", "Silver Lady" or even "Emily" which is not widely known. The cost of such extravagance is a little over £4000 if ordered at factory level but may be more expensive as an aftermarket accessory. A 24 Carat gold plated version is also available for sale but we think this will be more prominent in the middle east in places such as Abu Dhabi and Dubai. These gold versions sell for around £10,000 but will surely be a target for criminals if used in the UK.