Where do we start on this outstanding sports car? The Bugatti says it all really, like the title of this post. What more could you possibly write other than - Bugatti? We think that if you are the proud owner of one of these cars, then you surely have made it in the world. Everybody wants to be able to drive one of these bad boys, and to own one, well that's just the icing on a well and truly delicious cake.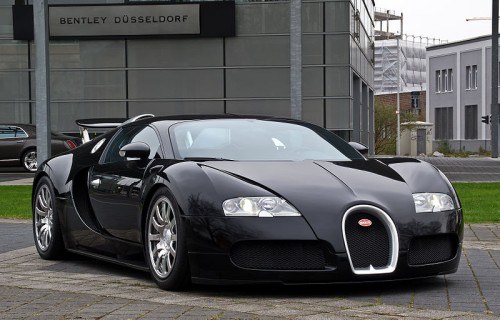 So where did it all start for Bugatti? A lot of people won't realise this, but Bugatti has been around since the very early 1900's. It all started in Molsheim, a small city in North Eastern France by a car manufacturer called Automobiles Ettore Bugatti. Ettore was born in Milan to a family of artists, and growing up learned to master design, which led him to construct vehicles such as the Type 35 Grand Prix car which won many victories in the car racing industry. In 1929 Bugatti won the first ever Monaco Grand Prix, besides winning the Le Mans 24 hour race twice.

Sadly Ettore passed away in 1947 and with no one to take on the Bugatti name, as Jean his son passed away several years before, the factory started to creep into debt and the company made their last model in the early 1950's. in 1987, Romano Artioli, an Italian Entrepreneur resurrected the car manufacturer once more and their first car for production was the Bugatti EB110. But sadly, that didn't last very long and the Bugatti dream was no more until Volkswagen took on the Bugatti brand in 1998 and after numerous attempts of concept cars at car shows across the world, the Veyron was unveiled September 2005 and thats when the Bugatti brand was re-born again.
Bugatti Personalised Registrations
Visit The Private Plate Company for Bugatti personalised number plates where you will find a huge selection of over 40 million choices.