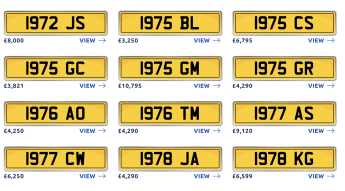 If you were born in the 1970's then we have a great selection of personalised registration plates that may have your year of birth in them. Personalised number plates are called personalised as there is clearly something that appeals to the owner, like their name or initials or sometimes the car they are driving such as JAG or TVR. The only problem with car related number plates is that it you should decide to sell the car and buy a different model, then the number plate is probably going to end up for sale again.
With a number plate that has a personal reference such as initials or the year of birth it will always have an appeal. If you are lucky enough to find one with both your initials or name and the year that you are after, then you really are lucky as they are quite tricky to find. You may want to find a year that was particularly important like the year you were married or the birth of your children.
Either way these dateless cherished number plates are great investments as they can commemorate all types of occasions such as weddings, birthdays and sometimes even the age of the car. Here are the personalised registrations that we have relating to people born in the 1970's that we can transfer onto your car or motorcycle in just a few days or provide on a certificate if you prefer to keep it for use at a later date.
1973 AW BEZ 1978 DEZ 1979 GAZ 1976 1974 JL 1978 JM 1974 JP 1975 JT LUI 1970 1977 MR RAZ 1973 SIL 1970 SIL 1975 TAZ 1977 1977 TS