Comedian, TV presenter and actor Jim Bowen has given exclusive rights to The Private Plate Company to advertise and sell his prized personalised registration number J80 WEN. Jim is best known for his TV show "Bullseye" which was a huge hit for almost 15 years running successfully from 1981 until 1995 with catchphrases such as "Nothing in this game for two in a bed" and " Super, Smashing, Great".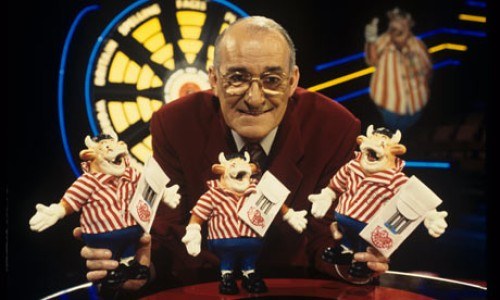 Jim started his career as a teacher in the 1950's and progressed to become the deputy headteacher of Caton Primary school. He became involved with amateur dramatics whilst still teaching which inspired his interest in showbusiness that eventually let to his appearances on the television show, The Wheeltappers and Shunters club, alongside other well-knows comedians such as Cannon & Ball, Frank Carson and Bernard Manning to name but a few.
Jim told us that he has owned the registration number for over 20 years and has used it on several cars including Bentleys, Lexus, a Mercedes Benz S class and even a Rolls Royce.

J80 WEN
The Private Plate Company are advertising the number plate at £5000 including all fees and have agreed, with Jim, to also donate £100 to a charity of the buyers choice. Jim will also hand write a thank you letter to the new owner giving provenance to the registration plate. J80 WEN is currently held securely on a retention certificate so we are able to transfer it within 7-10 days. You can call us on 01639 888833 to discuss or, perhaps, make an offer.
Update to this post. We sold Jims registration in January 2016 and Jim was good to his word where he wrote a letter to the new owner confirming its provenance. Jim sadly passed away in March 2018 and the new owner of the registration used The Private Plate Company to resell it a second time in December 2021.