The Personalised registration number 1 PRO has been spotted for sale on a popular internet auction website that used to be owned by Welsh snooker and billiards legend Ray Reardon MBE. Ray bought the registration number after defeating Graham Miles in the 1974 World snooker final in Belle Vue, Manchester with a score of 22 frames to 12. Ray, from Tredegar in Monmouthshire, kept the registration number for almost 30 years until he sold it in 2004.
Ray Reardon History
Ray was born in 1932 and started work as a coal miner at the age of 14 just like his father but quit mining after a serious accident that left him covered in a coal face for three hours before being rescued. He joined the police force shortly afterwards.
During the 1970's Ray Reardon became a household name competing in all the World championships winning in 1970, 1973, 1974, 1975, 1976 and 1978. He earned himself the nickname of "Dracula" due to his jet black hair styled although he was always a happy and jovial character on the snooker stage. When the world rankings were first introduced in 1976, it was Ray that became the very first number 1 Professional and so it was quite apt that at the time he was driving a car with 1 PRO on it.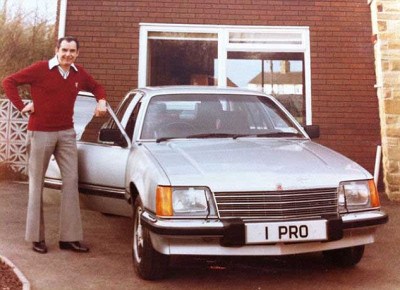 Apart from Winning 6 world titles, including 4 in a row, it wasn't until 1982 that he failed to appear in the final round stages and at this point a little known player, at the time, started to take over. Steve Davis. Only 4 players have achieved greater world success in the sport in their careers. Joe Davis who won the world championship 15 times between 1927 and 1946. The first 14 were back to back titles. His brother Fred Davis won 8 times between 1948 and 1956. John Pulman who took over from Fred from 1957 to 1968 and finally Stephen Hendry who has won 7 times dominating the 1990's.
Unlike todays huge prize money, Ray Reardon earned himself just £2000 when he won the 1974 final against Graham Miles, so when you consider that the winner of the 2012 tournament won a cool £250,000 with the runner up taking £125,000 its understandable that the price tag for 1 PRO is set at over £60,000.
View our selection of RAY number plates and CUE registration plates.