For the first time ever, the DVLA have introduced Irish registration numbers at the next auction sale which will be held at The Nottingham Belfry, Mellors way, Nottingham on the 25th, 26th and 27th of February 2015. Irish registration numbers have been auctioned by Wilsons Motor Auction of Northern Ireland for many years and so it will be interesting to see if the higher prices that are usually achieved at the DVLA Auction sale encourage higher prices for the usually low Irish registration plates.
DVLA Auction Prices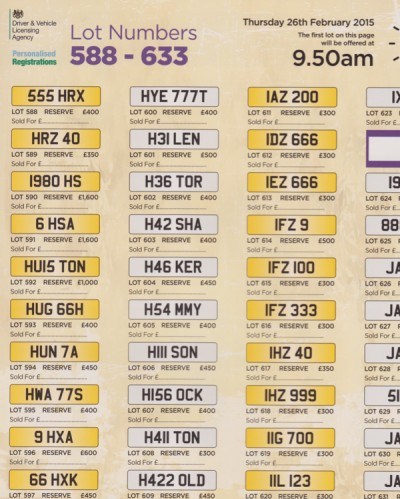 You can see from first glance at the catalogue that the DVLA Auction prices or starting prices, are set at a very low level to encourage bidding. However it always pays to shop around and check what else is available on the open market before diving straight into one of the sales and not assuming that just because its an auction, you should be getting a bargain. Its not always the case.
Generally, however, with the correct research, you should find your number plate will become a reasonably good investment whether it's bought at auction or from a number plate dealer. If you have done your homework, and your chosen plate sells for more than you intended, don't worry. There will be another auction no more than 2 months away and the chances are that another, similar, personalised number plate will be included in that sale.
There are several ways to bid at the auction. The most obvious way to bid is to attend in person. Whilst this may seem like a good idea, it can be a complete waste of time if your chosen registration is sold for a lot more than you anticipated, especially if you have made a journey of several hours.
Another method is to place a written or "book" bid. This way, you make a committed offer to buy the registration at a set price disclosed to the auctioneer. There are, again, pitfalls in this method as in our opinion, we wouldn't want to tell someone exactly how much we were considering spending incase the price was unnaturally inflated.
We would suggest using The Private Plate Company auction bidding service as we can offer advice and information based on over 30 years of experience in bidding at DVLA auctions and our representation fee of just £35 (+ VAT) is sure to save you hundreds, if not thousands of pounds.
You can see the latest list of DVLA auction number plates on our DVLA Auction page.