As most number plate fanatics will know, the DVLA auction of personalised number plates was recently held at The De Vere Village in Leeds. Prices were pretty much in keeping with the last few sales so its fair to say that prices are holding up quite well.
The star of this particular sale was the private plate 18 O which sold for £50,000 on the hammer making a total sale value of £64,880. We assume that a professional darts player may have bought this registration number especially after 1 PRO was recently advertised at over £60,000.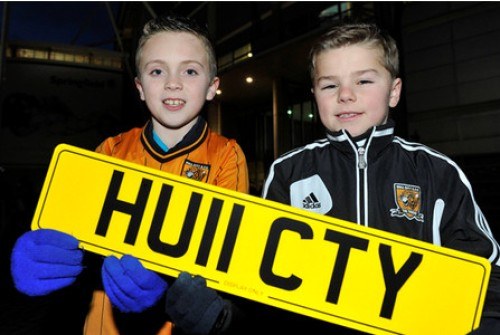 HU11 CTY
Other high prices included HU11 CTY that sold for £36,000 plus all the fees which made a grand total of £46,736 and F10 YDC that made an amazing sum of £15,600 before buyers premium and VAT. The reason that this is an amazing price is that DVLA could have released this back in 2010 when the other F registrations were sold off at a price of £499. Why this particular registration number was withheld and sold for such an extraordinary sum is unknown. If you fancy a HULL registration we have around 800 available for sale from just a few hundred pounds
HU11 CTY would look great on the Chairmans car of Hull City football club or even Hull Kingston Rovers so keep an eye out in Hull but we suspect its likely to have been bought by a lifelong fan of the club. But we can't imagine who would have paid such a huge sum for F10 YDC although we do know that it has been transferred to a Hummer.