Here's our regular reminder about the next DVLA auction thats about to take place on Wednesday 22nd, Thursday 23rd and Friday 24th May 2103 at the Morgan Motor Company in Malvern, Worcestershire. This is the first time that the DVLA have used this venue and its likely to give visitors a great insight into the way the Morgan cars are built and also a wonderful opportunity to see traditional British craftsmanship first hand.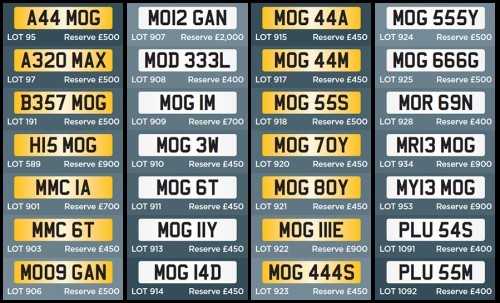 Morgan Cars were founded in 1910 by Henry Morgan when he was 29 years old. He continued to run the company until he passed away in 1959 yet even now, Morgan cars still uphold traditions by maintaining the same method of construction as they did over 100 years ago. Still set in Malvern after all these years, Morgan have recently introduced a 3 wheeler model which is exactly what the company started building all those years ago. Its proving to be very popular with the order books completely filled and so the waiting times are likely to rocket as they did thirty years ago.
Morgan Registration Plates
Back in the 1980's and 90's, Morgans proved particularly difficult to buy brand new as the waiting times increased to around 10 years. Nowadays, the waiting time is down to between 1 and 2 years, depending on the model of car ordered.
If you're luck enough to have a Morgan car, your name is Morgan or best of all if you have both, there are quite a few Morgan related number plates to be sold at the sale. Its unlikely that the plates in the auction will attract too much money though as DVLA have clearly not considered supply and demand by placing no less than 19 MOG number plates in just 1 auction sale.